Health Haven Zucchini Lasagna
Quick and Easy Healthy Recipes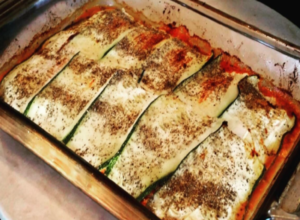 Brought to you by Health Haven Studio
10-20oz zucchini
10oz cooked ground beef or turkey (optional)
1/2 cup ricotta cheese
10 Tbsp. organic tomato paste
1 Tbsp. Italian seasoning
1 Tbsp. garlic powder
1/4 cup Parmesan cheese
Directions:
-pre-heat oven to 385 degrees
-slice zucchini into wide thin strips
-in a bowl mix cooked meat, ricotta cheese, tomato paste, 1/2Tbsp. Italian seasoning, and 1/2Tbsp. garlic powder
-in the bottom of a 9×13 pan place one layer of zucchini strips and dollop meat/cheese mixture on top, then repeat the process until ingredients are all used up. Remember the top layer has to be zucchini!
-sprinkle the remaining seasoning on top -place in the oven for 25-30 minutes