RhythmRide® Studio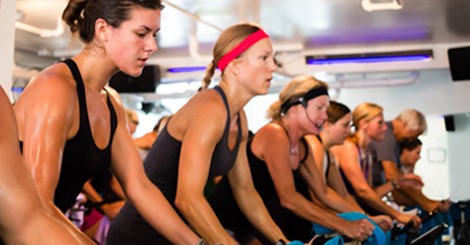 RhythmRide Studio Laguna Beach California
1100 S. Coast Highway #209A Laguna Beach Ca 92651
RhythmRide Studio Laguna Beach ® is a spin studio focused on riding to the rhythm and beat of the music. The rhythm brings the class together allowing for all skill levels to enjoy.
The RhythmRide Studio Laguna Beach ® method was developed by Shelley Arends in Laguna Beach, Ca. She has instructed for 17 years. Having been certified in many spin/cycle programs none of them satisfied her clients more than riding to the beat of the music. Therefore, she developed a unique program designed specifically around music.
Highly choreographed classes provide riders with an exceptional cardio workout that is physically challenging and fun! The music and the beat is the motivation to the ride! By using the BPM to simulate what to do on the bike it brings unity to the class. Shelley also developed specific moves that are fun and develop core strength.
At RhythmRide Studio Laguna Beach ® the only attitude you will get is POSITIVE. All the instructors are RhythmRide® certified and highly qualified to do their jobs. We guarantee to work your Heart, make you Sweat and fill your Soul with rhythm.
RhythmRide Studio Laguna Beach is located between Brooks Street and Oak Street in the Heart of the Hip District a True Laguna Beach Experience.
After your workout take a walk on Brooks street beach or Oak street beach they're just across Coast highway and are beautiful beaches.
For directions to the RhythmRide Studio Laguna Beach click here