Terraces Laguna Beach California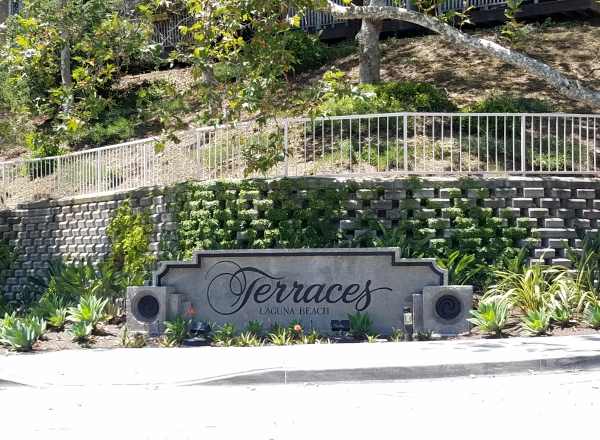 The Terraces Laguna Beach
Location
Terraces Laguna Beach is a condominium complex. These condos are located off Canyon Hills Drive and El Toro in Laguna Beach, California.
Neighborhoods bordering the Terraces Laguna Beach
The Terraces Laguna Beach condos are bordered by the neighborhoods of California Cove to the east, Canyon to the west, Aliso Viejo to the south, as well as the James Dilley Greenbelt Preserve to the north.
About the Terraces
This Laguna Beach condominium complex is conveniently located near the 73 Toll Road, 133, 405, and also the 5 freeways.
The residents of the Terraces can enjoy a quick trip down the 133 to all the shopping, restaurants, art galleries, and also the beaches of Laguna Beach.
Terraces condos are next to both the Laguna Coast Wilderness Park and the Aliso and Wood Canyons Wilderness Park.
Terraces Laguna Beach Real Estate
The Terraces are Cape Cod townhouse style units in a well-maintained complex. The Terraces offer 2 or 3 bedrooms, 2.5 baths, and range from 1263-1513 square feet. The amenities here include two pools, two spas, and barbecue areas.
Laguna Beach Community is proud to announce Community Partners Realty as our Official Laguna Beach Real Estate sponsor. They have provided us with links to the homes for sale and also the homes for lease in the Terraces Laguna Beach condo complex.
Terraces Laguna Beach Views
Depending on the location within the complex, some of the Terraces units have hills and canyon views.
Schools
Terraces Laguna Beach public schools are:
El Morro Elementary School
Thurston Middle School
Laguna Beach High School
Located in the Laguna Beach Unified School District
Please check with the school district to verify accuracy.
Check here for information on Orange County private schools.
Real Estate Information
Information provided courtesy of Martin Bressem of Community Partners Realty. For information on Terraces Laguna Beach or Laguna Beach Real Estate, go to OfficialLagunaBeachRealEstate.com. You can also contact him directly at 949-254-4721. He will be glad to assist and you will, most certainly, appreciate his 25 years of experience.
Community Partners Realty-BRE-01305673 Martin Bressem-BRE-01136352