Village Area Laguna Beach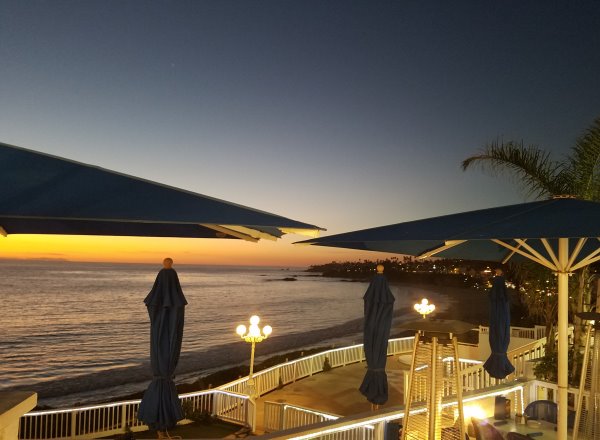 Sunset View from The Village Area Cliff Restaurant
The Village Area is the heart of Laguna Beach. Here is where you will find Downtown Laguna Beach and all its restaurants, retails stores, and art galleries. This area of Laguna Beach starts north at Broadway Street and Main Beach and continues south to Victoria Beach.
Beaches
The Village Area beaches are heavily visited and popular with surfers, skim boarders, body surfers, and beachcombers. These beach include the south end of Main Beach Park, Thalia Street (known as T-Street), and Brooks Street, just to name a few. Check here to see a list of all the Village Area Beaches.
Parks
There are many great parks in the Village Area of Laguna Beach. Nita Carman Park is just below the High School. Alta Laguna Park is where you will find Top of the World which is the highest point in Laguna Beach at 1000 feet. Bluebird Park is also in this area. Check here to see detailed information on the rest of Laguna Beach Parks.
Things to Do in the Village Area Laguna Beach
There is definitely no shortage of things to do in the Village Area of Laguna Beach. The are so many restaurants. You can find great places to dine ocean side, Downtown, or along both sides of Coast Highway. Many of the restaurants, such as The Cliff and Skyloft, also have live entertainment most days of the week. There are unique boutiques, shops, and art galleries galore.
Village Area Neighborhoods
If you are interested in living in the heart of Laguna Beach, you're sure to find a neighborhood to suit your needs. The neighborhoods of the Village Area include:
You can also find links to each specific neighborhood on our Laguna Beach Neighborhoods page.
To learn more about Laguna Beach California, please continue browsing this website. You will see that Laguna Beach can be broken down by sections. This page describes Village Area. The other sections of Laguna Beach are South Laguna Beach, North Laguna Beach, and also Laguna Canyon.